Our Services
There is only one thing worse than an early morning flight and that is not getting enough sleep the night before because you were up worrying...
Read More
Perthmaxi Group Tranfer Service
Traveling in a big group can be a real problem when it comes to transportation. People traveling together always wish to stick together, but sometimes it becomes challenging....
Read More
perth Airport Taxi Booking
It depends on number of people and taxi type. If you prefer dedicated private 7 seater maxi which can fit up to 14 bags of luggage, then it will cost $70 to $120. Call/SMS to Perth Maxi to get quote in 10 seconds.
Yes, you can pre book your maxi or taxi even before one month. Advance booking available with Perth Maxi for any date. Please Call/SMS to 0433387826. You can also book online https://www.perthmaxibus.com.au/booking
You can choose or book a private maxi cab at perth Airport Taxi Rank. If you prefer to go by train, then trains available for every 10 minutes to perth city. But booking a private dedicated taxi will drop you at your door step.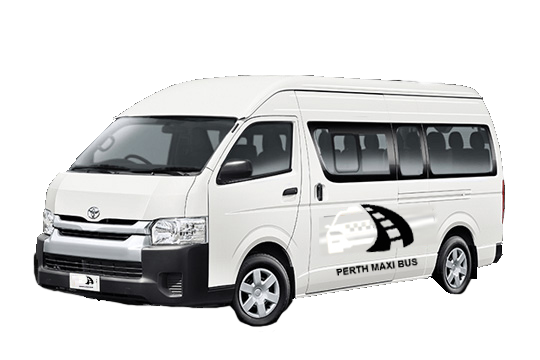 Book Your Maxi Now!
Just book us and leave the rest to Perth Maxi Bus. You will love it!!
Timing is a key factor in the transportation industry. Not reaching the destination on time can be frustrating for both the passenger and the driver. We all know perth roads are very challenging and congestion is unpredictable. The weather is also unpredictable.
But our aim is to reach on time for every pick up. We have a fleet of more than 500+ drivers. Our taxi web expands all over the Instant Taxi Service and provides transportation services from Airport to Cruise, perth Cruise to Service Apartments, and also from Service apartments to Saturday night events at Perth, Round the clock taxi service is provided by this friendly and faster Maxi Cab. We aim at making your travel a convenient experience.
HASSLE FREE BOOKING FORMS. JUST CALL OR SMS FOR INSTANT BOOKING. GET QUOTES IN LESS THAN 30 SECONDS.
Book maxi cabs anytime for any destination in perth for a safe journey. Perth Maxi provides best maxi cab service in Instant Taxi Service.
Book Now
I am so grateful for these amazing men. So respectful, helpful and kind. Thank you for your compassion with assistance in helping me and my cats travel from one hotel to the next during a very difficult time. I will be recommending your services to everyone I know and putting you on my instagram. A comfortable journey (several actually) exceptional driver and very accommodating.

Very good price, easy to book, kept in contact before pickup and overall just good guys. Definitely took away the worry of transport to the city with a baby, and easy on the wallet.

We used their cab service for an Airport (perth) drop early morning and they ensured he came on time to pick us up. We had a lot of bags so he brought a big vehicle which could accommodate us and all of our bags and helped with loading and un-loading the bags too. Driver was quite friendly and the entire journey was pretty smooth, we reached the airport on time as expected. Their price too is quite reasonable and they provide good service. All we need to do is ensure the pick-up time, location and other important details are communicated clearly and effectively. Would definitely recommend anyone out there to use their transport service as we would definitely be using it in future.